Mariyum Bibi
Mariyum Bibi, a mother of five, was widowed in 2010. So she migrated with her family from her home in Jafferabad, Pakistan, to the neighbouring district of Jacobabad.
There, she started to work in a brick kiln. Mariyum bought three donkeys with the last of her life savings to help with the backbreaking work in the kilns, but then she experienced the additional difficulty of finding food for her animals. Consequently her donkeys had to forage for themselves, which led to complications and worm infestation.
The Brooke mobile team assisted Mariyum's donkeys with de-worming and advice, and now Mariyum is a regular at the Brooke Community Awareness sessions, where she and others learn basic animal husbandry skills, including how to prevent and treat health problems.
Jai Lal Shah
35-year-old Jai Lal Shah transports people by carriage to earn a living for his large family.
Jai ferrys passengers from Raxaul border to Birgunj in Nepal. The community they live in used to rely heavily on traditional healing methods for their animals, which were ineffective at best, and often caused great harm and pain to the animals.
The community also distrusted veterinary providers for fear the veterinarians would take their animals away. After a while the Brooke gained the trust of the community, and since then they have formed an equine welfare group, of which Jai Lal has been nominated as the Chairman.
John Mbara Mbogo Family and Bob
This is John Mbara Mbogo and his family in Kenya. Their 7-year-old donkey, named Bob, has African Horse Sickness.
Brooke veterinarian Dr Mwirigi has been treating Bob with antibiotics and pain killers while keeping Mr. Mbogo advised about the condition.
The Brooke is working with other organizations to discover a cure and more effective treatment for African Horse Sickness, which has devastated the equine population in Africa for decades.
Abraham and Dame
This is Abraham, who is 35-years-old, with his horse, Dame, in Soro, Ethiopia.
Dame works as a pack animal, carrying goods up to 18 miles to help Abraham earn $2.50-$5 per day. Before the Brooke started working in his community, Abraham's horses only lived about 2 years. They died from wounds and other problems, especially during Ethiopia's dry season.
But now Abraham manages wounds, feeds well, gives rest, and provides padding on the harness. His horses are strong, and he's making a good income. Abraham leaned these valuable skills, and both he and his animals are benefitting -- all thanks to our donors!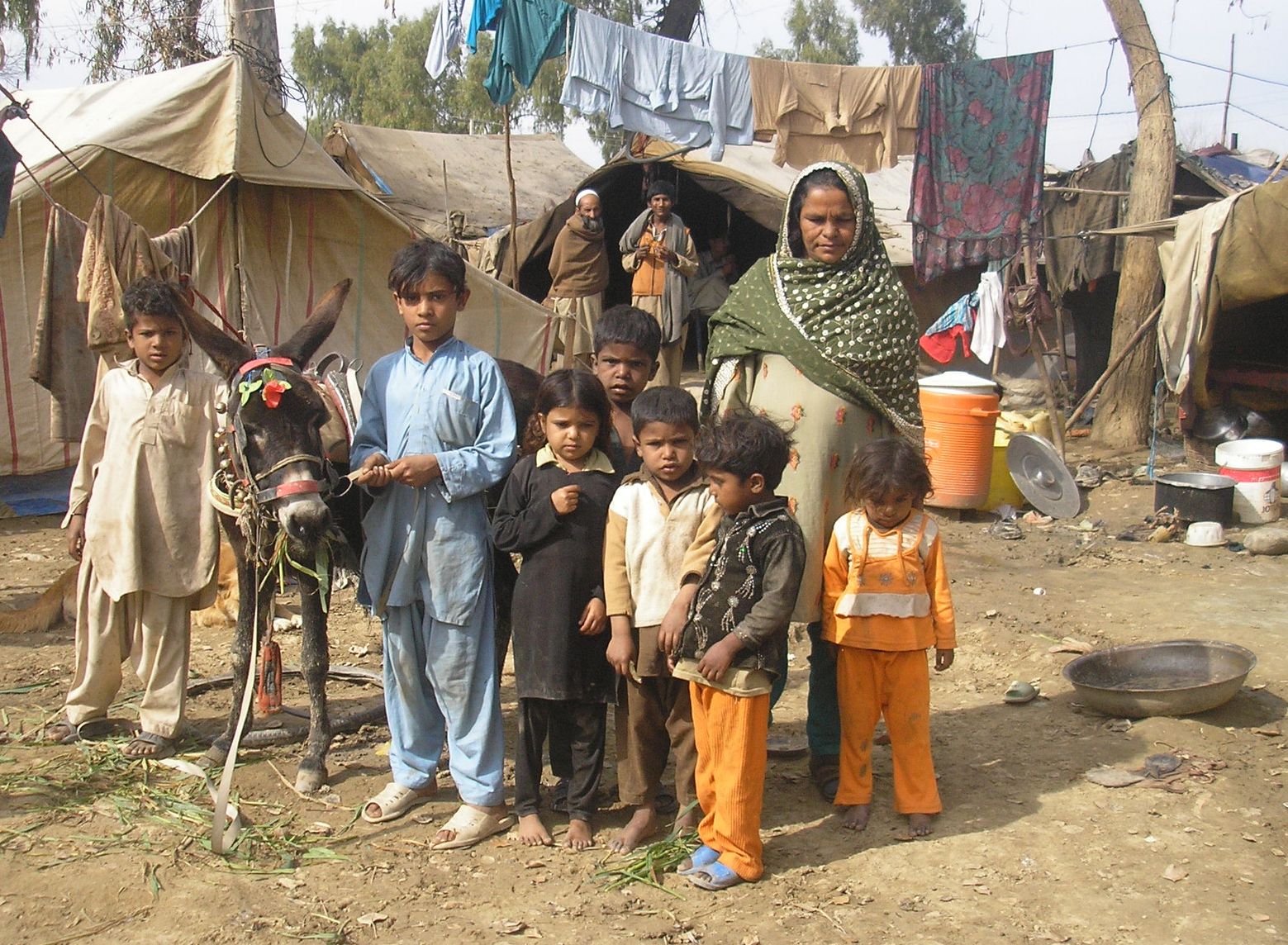 Nasreen Bibi
Nasreen Bibi is a 40-year-old lady who lives in a tent near Bocheri Pul, Pakistan. Mrs Bibi lost nearly all of her belongings and home in a devastating flood.
After being transferred to a flood relief camp, she collected what was left of her life, including her donkey, and decided to earn a living for her family of seven children and a disabled husband. Her cart donkey is the only source of support to help shoulder her responsibilities.
The Brooke helps her by providing much-needed veterinary care for her donkey, and teaches her how she can keep him healthy and fit for work, so that she can continue to feed her family.
Fida
This is 18-year-old Fida with his mare and foal.
They live in the Qalander community of Asifabad in Meerut, India. Fida lives with his parents and 6 siblings, and earns the equivalent of approximately $3.35 each day.
Fida contacted Brooke veterinarian Dr. Brajesh when his 10-year-old mare was unable to stand for several days. Dr Brajesh diagnosed and confirmed that the mare was suffering from a deadly equine disease called Surra (Trypanosomiasis) and also a uterine infection after foaling, which he treated.
The Qalandar people are primarily involved in horse breeding, rearing, and trading, so most people's livelihoods are directly tied to their horses.
The Brooke has a dedicated office near their densest population to provide regular emergency services in their villages, to alleviate the pain and suffering of their animals, and to stop the transmission of deadly equine diseases such as Surra in the area.
Manuel Albeno and Carmello
Manuel Albeno is a 68-year-old father of 9, and grandfather of many more. He is a gentle man who rides his stallion Carmello every day to work his land in Guatemala to support his family. Carmello won first prize in a Brooke-sponsored contest for being the horse that exhibited the best welfare in his community. One of the reasons Carmello looks so good is because Mr. Albeno considers him to be an important member of the family, and has accessed all that the Brooke has to offer in Guatemala to keep Carmello in good health. Smiling at Carmello as he would one of his own children, it's obvious that the bond between the two is strong, and with the Brooke's help will continue for many years.
Ban Bahadur
Ban Bahadur, an equine owner from Tolka village in Nepal, has traveled for six hours to Birethathi to attend a Brooke training session on Tetanus. Ban says. "Brooke has helped us to purchase first aid kits for our working animals. These kits are a valuable resource for while we are working in remote locations in the hills where mobile network can't reach us."
Thakuro
Thakuro lost his eyesight in an accident when he was only 30, working as a cobbler and living a normal life with his three children and wife. After the unfortunate accident he opted for agriculture as a profession and bought two donkeys for plowing fields. A flood in Pakistan left the family isolated and they needed to migrate to a safer area, and the Brooke provided free veterinary treatment to the donkeys that sustain Thakuro and his family.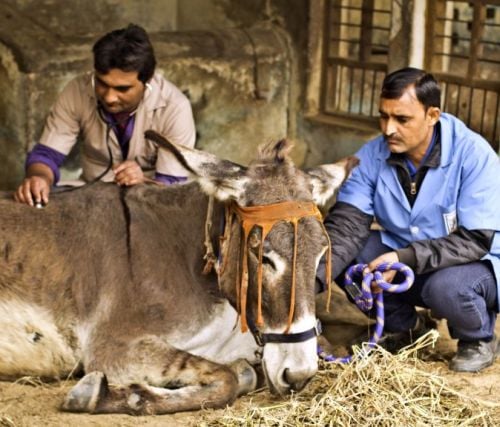 Reema
This is Reema. While grazing in a forest in Meerut , India, she escaped from her tether and was missing for three days. Her owner was panicked when she was found in a swamp, unable to stand. Worried that Reema's condition would get worse, he immediately called the Brooke emergency number. The Brooke team, led by Dr Rajen, gave Reema a full examination and found that she was paralyzed in her back legs and suffering from pneumonia and stress. Dr Rajen treated Reema with painkillers and medication to fight the partial paralysis. She was then placed on a drip to give her back her strength.
Dr Rajen then spoke with her owner and explained that he would need to wrap Reema in a warm cloth to help her recover. Dr Rajen also prescribed a mild antibiotic and vitamin and mineral meal supplements. Brooke staff kept in contact and Reema recovered well. Her owner was delighted at her progress, and said: "When I saw her in the swamp I had little hope, but I am really impressed with the skill of the Brooke team and I thank them for saving my donkey."
Their Stories